Modes of Transportation in Italy
How Zicasso Works
Describe your dream trip with luxury vacation package and/or adventure tour.
We match you with up to 3 top travel specialists (travel agencies). They compete to plan your trip and tour.
Book the trip when you are satisfied.
About Transportation in Italy
The modes of Transportation in Italy embody the variety of ways you can travel around the Italian Peninsula on well-developed infrastructure. The many ways to travel around Italy make the far corners of the country easy, accessible, and efficient for locals and visitors. Whether traveling by train through the northern mountains or driving along the country roads of Tuscany, cruising by boat from Naples to Palermo or flying from Venice to Brindisi, Italy has convenient methods for transportation with extensive metros, comprehensive taxis, modern airports, and easy to manage ports, with travelers and locals traveling within the cities and around the country whether by train, car, bicycle, and boat.
Travel by Train
Travel by Car
Travel by Bus
Travel by Private Chauffeur
Travel by Flight
Travel by Boat
Urban Travel
Transportation with Zicasso
Travel by Train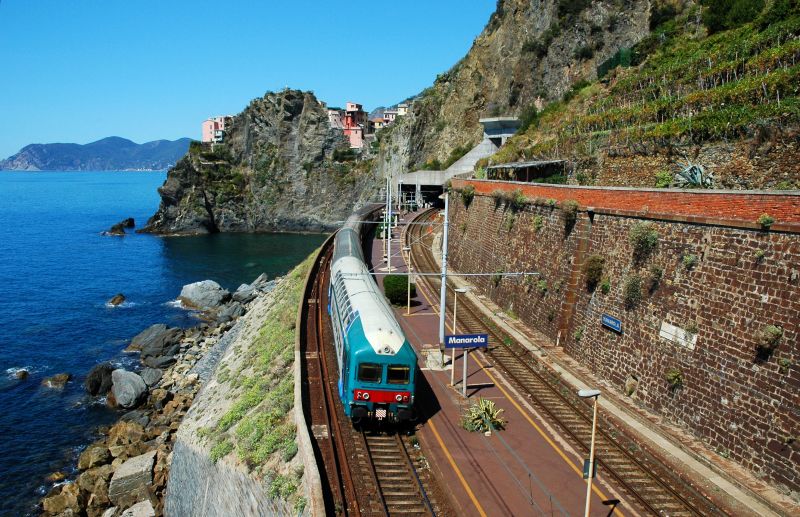 The train system in Italy is the most popular way to travel around Italy. The national company is Trenitalia, which runs most services, with the private company Italo offering high-speed trains between Turin in the north and Salerno in the south, along with Venice to Naples, or Brescia to Naples. All three services top in Bologna, Florence, and Rome before reaching their final destinations.
Helpful Tips
There are some important things to keep in mind that are unique to train travel in Italy.
Get your ticket stamped - Before boarding the train, you should always get your ticket stamped in the green machines most often located at the head of the rail platform. This machine validates your ticket and failure to get the ticket stamped will result in fines.
Make reservations - It is important to make reservations on high-speed trains, especially when traveling during peak season. Like with airline travel, the earlier you book a train ticket through Trenitalia or Italo, the more variety you will have and the greater the savings. Many trains also offer 1st- and 2nd- class seating, with the regular sections reaching prices half as expensive as the luxury compartments.
Consider the different types of train services - Before booking the trains, it is important to look at the various options of train services. Regionale/Interregionale trains are slow and stop at nearly all stations between destinations. InterCity services are faster and can also travel to destinations outside of Italy on EuroCity lines. Alta Velocitá, the high-velocity trains, reach speeds of more than 185 miles per hour (297 kilometers per hour) and connect major cities across Italy, cutting the travel time of the InterCity express trains by half. Costs vary, so some research is necessary.
Travel by Car


Italy has an extensive network of motorways, state-funded highways, and local streets making exploration by car easy, with even the most remote village accessible. Cars drive on the right side of the road, consistent with the United States and Canada.
Pass on left - When on the highway, drivers are allowed to overtake other cars on the left.
Headlights always on - You must always drive with your headlights on, day or night, when outside of cities, most notably on country roads.
Speed limits
Unless otherwise indicated, the speed limits in Italy are:
80 miles per hour (130 kilometers per hour) on the Autostrada, which is similar to a freeway
68 miles per hour (110 kilometers per hour) on all main roads in non-residential areas
55 miles per hour (90 kilometers per hour on all secondary, non-urban roads
31 miles per hour (50 kilometers per hour) in built-up areas, such as cities
Valid drivers license - Driving in Italy's larger cities can be tricky and scary. For example, ancient cities like Rome allow many two-way streets on narrow, historic roads seemingly more fitted for one-way traffic. In order to drive safely in Italy, you must have a license issued by one of the EU member states or an International Driving Permit issued by certain offices in the United States, such as the American Automobile Association (AAA) or the American Automobile Touring Alliance (AATA). If you do not have an international driving permit, you can carry a license from your home country if a translation is also provided.
Check local rules before driving - Automated camera systems across Italy are the predominant form of managing speeding violations and tolls. The rules of the road can change from region to region, so be sure to check the local rules and regulations for driving. Such as, in the region of Le Marche, all cars must have snow tires or carry snow chains in autumn and winter.
Must request automatic transmission cars - When renting a car in Italy, automatic transmissions are not automatically provided. A person must specify wanting an automatic transmission instead of a manual transmission when making the reservation for a car hire. The automatic transmission generally costs more and is only available according to stock.
Road signs and street rules – Always pay attention to the road signs both in the big cities and on the country roads.

It is always illegal to make a right turn on a red light
Zona Traffico and Zona Pedonale are not open to cars and instead indicate pedestrian only areas
Destra means right
Sinistra means left
Dritto means straight
Uscita means exit
Pedaggio means toll 
Travel by Bus


Traveling by bus can be an easy, efficient, and cheaper way to access the smaller towns and villages in the secluded areas of Italy not connected to the main cities by rail. Buses connect the vast streets of Rome, along with the InterCity bus companies reaching smaller towns such as Assisi in Umbria or Alberobello in Puglia.
Helpful Tips
Where to buy bus tickets - Bus companies sell their tickets through agencies in large cities, online, or at the station when traveling to different areas of Italy. In small towns, villages, and cities local buses sell tickets in bars or directly on the bus.
Is advanced booking required? – Advanced booking is often not required but is advisable during high season, especially for long-haul trips or when trying to travel on a Sunday to a destination unreachable by train.
Travel by Private Chauffeur


Traveling by a private chauffeur through Italy makes exploring easy and the small towns around each region accessible. Transferring or touring with a private chauffeur allows you to relax and enjoy the scenery Italy without the worries of navigation or paying attention to the rules of the road in a different country. Private transports between distant cities can be expensive and do not always reach their destination faster than the high-speed trains, but consideration should be given for shorter distances.
Helpful Tips
Best way to utilize a chauffeur - The best way to appreciate the comforts and luxuries of a private transfer is to experience each individual region. For example, if staying in Italy and wanting to explore the famous medieval towns unconnected by the railways, a private chauffeur provides a perfect, stress-free alternative to renting a car, along with the freedom of staying or going at your preferred time as opposed to the time set by a tour company or bus schedule.
Best places to enjoy the services of a private chauffeur are:

The Amalfi Coast - the narrow, winding roads nestled between the edges of the Tyrrhenian Sea and coastal mountains of the Campania region are daunting to traverse on your own. Local drivers easily navigate the dramatic landscape and also offer quality information on the local towns unknown to visitors.
Tuscany – the medieval towns of the region are not linked by highway or main roads, but are known to local drivers who often navigate the rolling hills and valleys of the region. A private chauffeur is especially valuable during a day of wine tasting, and as an added benefit, most drivers are knowledgeable about local wineries.
Umbria – the hidden, preserved medieval towns of Umbria have retained their culture partially due to the absence of the railway and access to the Autostrada. There is also great wine tasting in the region, which is often overlooked by tourists for the more famous valleys of Tuscany.
Naples to Bari – While there are trains that connect Naples to Bari, which cross the regions of Southern Italy, they are slower than a car due to a lack of public infrastructure concentrated in the south. The most common train route between the capital of Campania and the capital of Puglia stops in Caserta, where continuing travelers would have to switch trains. The journey could take nearly four hours at the minimum. Hiring a private chauffeur will only help navigate the crazy roads and driving rules of Naples, but will also reach Bari much quicker, with a journey taking less than three hours total.
Travel by Flight


Italy has an extensive network of domestic flights using a variety of different airlines. Airport taxes are included in the overall price of a ticket, including the low-cost airlines providing quick, cheap services around Italy, the EU, greater Europe, and parts of the Middle East and North Africa. The general size of Italy and the easy-to-use rail network makes flying internally unnecessary if traveling between large cities at shorter distances. However, when traveling longer distances, such as between cities from north to south, a short flight can severely cut through the necessary travel time.
Finding accessible, luxury, and economical flights between cities in Italy is easy when using the airline websites or traveling aggregate sites. The duration and cost of the flights vary depending on the starting point and end destination. Some of the airlines known for domestic flights in Italy include:
Alitalia
Blue Panorama
Easy Jet
Air Dolomiti
Meridiana
Ryanair
Volotea
Travel by Boat


Travel by boat in Italy follows a variety of routes along the Mediterranean Sea reaching seaports across the Italian peninsula, islands, islands, and countries along the Adriatic or Tyrrhenian seas. Boats and ferries travel along the scenic waterways from cities like Genoa, Livorno, Civitavecchia, Fiumicino, Naples, and Villa San Giovani.
The primary companies operating the sea routes include:
Tirrenia
Alilauro
Caremar
Snav
Toremar
Vector
Mobylines
Corsica Ferries
Boats and ferries are also available on the famous lakes of Italy. Boat services connect the beautiful towns and villages on opposite edges of the lakeshores offering scenic panoramas on fast modern hydrofoils and historic steamboats.
The lakes on which the historic and modern boats travel include:
Lake Maggiore
Lake Como
Lake Garda
Lake Iseo
Urban Travel

a. Taxi
Taxis in Italy are easy to manage and a quick alternative to walking or taking the metro. Cab drivers in Italy are professional, friendly, and honest.
Helpful Tips
Calling a Taxi - When calling an official company for a pickup, a registered taxi will cost a few euros upon arrival. Italian rules state the taxi driver start the meter the moment they receive the call as a standard across the profession.
Paying a taxi driver - Drivers do not always carry small bills or coins for changing large amounts of euros when passengers use big bills for small payments. In Italy, when trying to negotiate a flat rate, the fair usually ends with an inflated rate. Licensed drivers should never try to set a different rate and long-distance trips, such as from a city center to the airport, or often preset by the city and should never be negotiated. With this rule in mind, it is important to make sure the meter is always running.
Ridesharing apps have grown in popularity and legality in Italy over the years but remain available only in large cities such as Milan and Rome.
Helpful Tips
As of 2018, the only available legal ridesharing app in Italy is Uber Black. Using the service in the available cities like Rome and Milan, are expensive with drivers required to possess a town car NCC license to operate. This results in a more expensive service than a taxi ride on average, especially during surge pricing.
If you desire a ride from Uber during your time in a city in which Uber operates, do not pay attention to signs or taxi drivers who say Uber is illegal in Italy and can result in a fine of up to 5,000 euro. These rumors are false and Uber is available in select cities but does result in the extra fees from using Uber Black instead of the regular Uber service.
Alternative ridesharing apps to Uber or Lyft exist across Italy that make finding transportation simple and affordable. The following apps have grown in popularity over the years and can even help navigate through the infamous traffic of larger cities like Rome:
MyTaxi – While previously mentioned as an available resource for taking taxis across the major cities of Italy, the app is also a useful way to protect riders from scams and false prices. Using the MyTaxi app allows customers to track their location and the route to their destination, while also providing the estimated price based on time, distance, and other variables similar to the Uber app but connected to an official licensed taxi.
Welcome Pickups – The ridesharing app is available in various cities across Italy and is most often used for reliable transportation between the airport, port, or train station, and your accommodation or vice versa. The app was designed as a safe alternative to ridesharing offering customers the security of knowing their driver, their route, and having someone waiting for them upon arrival providing an experience like Uber but with a private car and escort waiting at the port upon arrival or at the hotel at check-out.
Scooterino – The ridesharing app known as Scooterino can seem like a thrilling opportunity for some travelers while looking like a dare-devilish choice for others by sending a scooter driver with an extra helmet to your location. Customers hop on the back of the motorino and can quickly weave through traffic at any time of day like a local Italian.
c. Cycling

Cycling in Italy is a popular form of travel in large cities and around the countryside.
Helpful Tips
Fees for loading bike on public transportation - When cycling around Italy it's important for your bike to fit onto regional trains displaying a bicycle logo. A separate ticket known as a suppleento bici, is valid for up to 24 hours. Designated international trains also allow bicycles with the ticket amount paid on board unless disassembled. The majority of ferries in Italy allow free passage for bicycles.
Where can you rent bicycles? - Bicycles are an easy and scenic way to explore cities, towns, and the famous Italian countryside and are most often available to rent for a number of hours, a full day, or an entire week. Mountain bikes are also available in town or cities known for their rugged trails. Bicycles are not allowed on the Autostrada.
Bicycle sharing – Bicycle sharing has become common in larger Italian cities like Milan, Turin, Rome, and Florence. Both dock and dockless systems operate in the larger cities for plenty of options when choosing the type of bike and location from which users can travel. However there is a reduced number bike sharing systems in the smaller regions and cities of Northern Italy.
d. Scooters
When imagining Italy, the image of cruising on the famous Vespa scooter through the streets of Rome or along the Amalfi Coast always comes to mind. Scooters are truly iconic symbols of Italy.
Helpful Tips
Renting a Scooter - It is easy to rent a scooter in Italy from a car rental company or a licensed company with a designation from renting scooters. The driver must have a license issued by Italy, an EU country, or a license in good-standing from back home. If the license is issued from outside the EU, an international driver's license is necessary. For any scooter over 125 cc, a motorcycle license is also necessary. The idea of riding a scooter through the Italian countryside or an Italian city is fresh, fun, and exciting, however, when driving a scooter through a major city like Rome, Milan, or Naples, it's important to have some experiences with the vehicle for the safest possible adventure.
e. Cable Car
Cable cars and funiculars in Italy are a dramatic, fun, and scenic way to experience the wonderful horizons of the surrounding Italian countryside. Cable cars and funiculars are situated across the Italian landscape and climb up the mountainsides while avoiding the serpentine roads cars or bicycles must take to reach the peaks. The different cable cars and funiculars across Italy range from modern, rotating gondolas providing a special view of the Alps to antique glass cars stopping above a medieval castle.
The most typical locations to ride a cable car include:
Monte Mottarone, Stresa
Laveno Mombello, Lake Maggiore
Erice
Solda all'Ortles, South Tyrol
Mont Blanc, Valle d'Aosta
f. Tram
Trams are an easy and exciting method of travel inside cities like Milan and Rome. Although Rome's tram network is limited, Milan maintains its historic trams crisscrossing the city for an elaborate network of cars with original fitting, great sightseeing destinations, and an easy loop for exploring the city-center.
Helpful Tips
Where to buy tram tickets - Tickets for the trams in both Rome and Milan are sold by electronic machines at the station, tobacconists, and newsstands. Tickets are valid for up to 90 minutes after purchase and must be validated when boarding the tram. All trams in Milan pass close to the central area of Piazza del Duomo.
Transportation With Zicasso

Zicasso makes traveling in Italy easy and accessible by ensuring your luxury transports are booked long before your arrival on the Italian Peninsula. When traveling with Zicasso, your Italy specialist ensures you can discover and enjoy traversing the famous countryside and alluring coastlines, glistening seas, and snowcapped peaks at your preferred pace custom-tailored to your timeframe and how you wish to experience Italy. Travel with a private transfer along the Amalfi Coast, fly from Genoa to Palermo, or bask in the views of the Pugliese shoreline from the bow of a boat. Zicasso makes transportation in Italy easy and carefree allowing you to indulge in the history and delight in the renowned beauty free to drive to Florence, ride the train to Venice, or even explore the outskirts of Rome by Vespa.
Reviews of Zicasso's Referral Service
Reviews on Zicasso are all from real travelers who used our service, booked a trip, and traveled.
4.75 stars based on 12 reviews