1. Experience the Wonder of Historic Spain
Spain feels as though contemporary culture fills the crevices of historic towns and cities with hints of ancient history dating back centuries. With Celtic settlements to Roman aqueducts, monolith tombs to medieval lanes, grand mosques to Moorish palaces, each region informs the preserved traditions from Granada in Andalusia to Barcelona in Catalonia.
Best Places to Visit for Ancient History: Granada | Cordoba | Tarragona | Madrid | Toledo
Spain's extensive history will capture your imagination with the distinctive pasts of the towns and cities that remain connected under a united Spain. We find the most options for historical activities are in Granada, Cordoba, Tarragona, Madrid, and Toledo.
Best Time to Visit: April | May | October | November
2. Discover Essential Flavors of Spain
Spain is famous for simple recipes made with fresh and seasonal ingredients known as tapas or pintxos. Food is a staple of Spanish culture with artisanal markets highlighting the flavors of local communities and award-winning restaurants showcasing the evolution of culinary aesthetic. All are focused on traditional tastes, ingredients, and seasonality.
Best Places to Visit for Tapas or Pintxos: San Sebastian | Valencia | Madrid | Girona | Granada
As one of the best destinations for food lovers in Europe, Spain's tapas culture is inspired by the Mediterranean Sea, climate, and diverse landscape for incredible gastronomy. The best places to sample some of Spain's iconic mouthwatering cuisine include San Sebastian, Valencia, Madrid, Girona, and Granada.
Best Time to Visit: April | May | October | November
3. Taste Spain's Eclectic Wines
Spain's climate and topography make it a fantastic destination for wine tasting and wine culture. The nation's deep connection with wine stems from its Roman history, while the landscape offers fantastic opportunities for growing different types of grapes to achieve diverse flavors. The millennia of wine production and consumption has informed the country's relaxed pace as people enjoy the pleasure of a glass under the sun or on a rainy evening.
Best Places to Visit for Wine: La Rioja | Jerez de la Frontera | Pontevedra | Castile Le Mancha | Penedes
A wine tour in Spain offers a great escape from the bustle of daily life back home and immerses you in the simple pleasures. Charming towns with enchanting scenery are known for producing specific wines and offering insight into the distinctive regions' history and flavors. Some of the best destinations for wine tours in Spain include La Rioja, Jerez de la Frontera, Pontevedra, Castile Le Mancha, and the Penedes.
Best Time to Visit: April | May | October | November
4. Sample Famous Mediterranean Gold
While other Mediterranean countries are famous for their olive oil, Spain is the world's largest exporter of extra virgin olive oil, producing nearly half of the world's entire production. An olive oil tour in Spain explores the millennia-old tradition dating back to the arrival of the Phoenicians. A tour plunges you into the fragrant olive groves to learn more about the harvest, the crop, and the milling at the hands of a local expert before sampling what is considered Mediterranean Gold.
Best Places to Visit for Olive Oil: Cordoba | Malaga | Jaen | Tarragona | Sierra de Segura
An olive oil tasting is more than a taste of a cooking ingredient and represents a cornerstone of Mediterranean culture. The soil injects distinct character into each olive making the celebrated oil as particular as wine in terms of how its unique flavors are shaped. The best places to experience an olive oil tour in Spain include Cordoba, Malaga, Jaen, Tarragona, Sierra de Segura
Best Time to Visit: April | May | October | November
5. Revel in Artistic Masterworks
Spanish art is one of the most important collections of cultural heritage in the world because of its diversity, history, and evolving aesthetic through the ages. Art samples in Spain date back to the Palaeolithic age with cave paintings and lead to Phoenician works, Greek influences, and the mastery of techniques displayed during the Renaissance. Spain's art is interconnected with its history as works represent the culture of a particular time period resulting in the preservation of artistic legends.
Best Places to Visit for Art: Madrid | Bilbao | Barcelona | Malaga | Seville
Cities like Madrid, Bilbao, Barcelona, Malaga, and Seville represent the broad standard of Spanish art and its influences. Historical works provide a greater context to modern marvels from the Prado Museum to the Guggenheim Museum. Fine art, Picasso's evolution, and the remarkable aesthetics of Moorish geometric art reflect Spain's layered history that informed but did not limit the lavish artistic traditions.
Best Time to Visit: April | May | October | November
6. Let Passion Guide You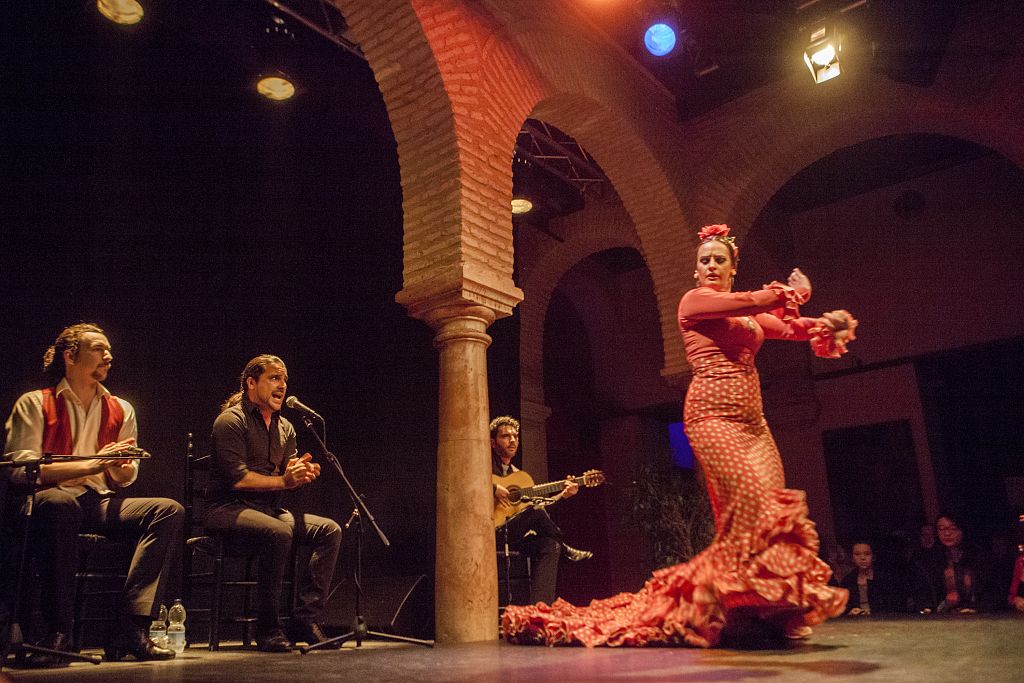 Spain is synonymous with passion, and flamenco is the embodiment of Spanish expression. At its core, flamenco explores the diverse folkloric traditions of the south, but the flamboyant dance has come to represent the soul of the nation. As an essential part of the culture, flamenco blends artistic expression in dance, song, and guitar, earning a UNESCO Cultural Heritage of Humanity designation in 2010. More than an expression, flamenco also tells a story so powerful it can only be understood through a connection of movement and music.
Best Places to Visit for Flamenco: Madrid | Barcelona | Granada | Seville | Cordoba
Spain's most famous artwork is not just a dance and will capture your senses with song, movement, and the flash of flower dresses or stark black clothing. Whether an authentic display in an intimate hall or a demonstration in a larger stadium, the best places to experience flamenco as a show or private class are Madrid, Barcelona, Granada, Seville, and Cordoba.
Best Time to Visit: April | May | October | November
7. Cycle the Brilliant Countryside
The diversity of Spain's landscape makes it a bucket-list destination for both enthusiastic cyclers and those wanting to enjoy a safe, but gorgeous, bike tour. The countryside from the foothills of the Pyrenees to the Rioja Valley's vineyards represents the broad range of scenery that will captivate you during a cycling tour or bicycle excursion. You can pedal through Spanish-Arab culture or follow a pilgrimage route decorated with Old-World architecture to find the best of Spain at the pace you set.
Best Places to Visit for Cycling: Costa Brava | Camino de Santiago | Mallorca | La Rioja | Basque Region
There is no doubt that Spain is one of Europe's best cycling destinations, if not the world. Smooth roads, abundant sunshine, green countryside, and beautiful coastline provide fabulous scenery. Iconic windmills, Moorish palaces, and whitewashed towns offer a rich connection to local culture, and these are best experienced at the slower pace required on a cycling excursion or tour through destinations like Costa Brava, Camino de Santiago, Mallorca, La Rioja, and the Basque Region.
Best Time to Visit: April | May | October | November
8. Uncover the Layers of Heritage
In Spain, contemporary culture stems from a foundation of diverse traditions brought to the country by distinctive Jewish, Muslim, Roman, and Catholic communities. The number of historic civilizations that have landed on the Iberian Peninsula has fed the frenzy of artistic representation, culinary customs, and architectural wonders across Spain represented in the likes of Carthaginian remains and Phoenician settlements with an impetus on the return of the Catholic Kingdom in the 15th century onward.
Best Places to Visit for Heritage: Granada | Seville | Toledo | Asturias | Segovia
History in Spain reveals more than just the past but shows how and from where the preserved traditions of contemporary culture come. The regions across the country share a modern unity, but their customs, whether in the cuisine or daily routine, are visible in the remains of the past, especially in places like Granada, Seville, Toledo, Asturias, and Segovia.
Best Time to Visit: April | May | October | November
9. Indulge in the Tastes of Spain
With food in Spain such an essential part of the culture, a cooking class lets you indulge in the unique flavors of a town or region. Spain has an eclectic mixture of cultures and traditions that shape the overall culture between the Bay of Biscay to the Strait of Gibraltar. Traditions focus on locally grown fruits and vegetables, seasoned sausages, and delectable seafood with specialties highlighting the ease of local ingredients such as Gazpacho, cod fritters, or paella.
Best Places to Visit for Cooking: San Sebastian | Valencia | La Rioja | Barcelona | Granada
Spain is a country shining with regional recipes giving you a hands-on experience focused on specific flavors. Your cooking class will promote the seasonality of ingredients spanning the Mediterranean shaping traditional tapas and avant-garde dishes featured in destinations like San Sebastian, Valencia, La Rioja, Barcelona, and Granada.
Best Time to Visit: April | May | October | November
10. Take in Exceptional Architecture
Spain can turn from a country known for classic art to the image of the avant-garde that erupted in the 1920s. The likes of Antoni Gaudi and Salvador Dali represent the distinctive surrealist styles that turn landscapes and cities into a dream-state. The architecture now represents a richer heritage as culture shifted once more through the ages pushing the envelope of artistic expression whether on canvas or as part of the marvelous skyline.
Best Places to Visit for Surrealist Art: Barcelona | Figueres | Mallorca
Surreal art was an experiment with Spanish artists focusing on movement and finding different forms of expression that now inspire the world. The different regions in Spain showcase art and architecture's impression on their surroundings and reflect how the surroundings shaped the art in places like Barcelona, Figueres, and Mallorca.
Best Time to Visit: April | May | October | November
More Travel Information & Tips
With so many wonderful activities and things to do in Spain, a personalized itinerary will allow you to select the best options for you. Discover our Spain Travel Guide for an array of inspirational and informative content to get prepared for your ultimate exploration of Spain. When you are ready to start planning, get connected with a travel specialist who will provide you with everything you need to know from must-see destinations and best time to visit to travel considerations. Submit a Trip Request or call us at 1-888-265-9707.