1. Discover the Depths of Costa Rican Heritage
The wealth of Costa Rica stems from the national heritage fed by natural and cultural histories that showcase different perspectives of the country's beauty. Prehistoric monuments, extensive stretches of rainforest, and colorful artisan crafts representing a part of Costa Rica's past highlight for you points of natural splendor informing the local communities and intangible stories further shaping the spirit of the greater nation. The diverse displays of heritage across Costa Rica shows you the life and lifestyles of the past and the present from enchanting mysteries to unfathomably pristine wilderness.
Best Places to Visit for Cultural History: San José | La Amistad National Park | Cocos Island National Park | Sarchi | Diquis Delta
Best Time to Visit: December | January | February | March | April
2. Indulging in the Delights of Traditional Flavors
Costa Rica is one of the world's great food destinations but often hides in the shadows of countries more famous for their culinary exploits. The truth about Costa Rica's gastronomy stems from simple recipes, local ingredients, and some of the world's best produce. Impressive sustainability practices enhance the flavors of every dish making every plate of fish taste fresher and every bite of fruit taste brighter. Indigenous cuisine remains an important staple in many communities while delectable cultivation of award-winning coffee and decadent chocolates possess all the makings of an unforgettable culinary discovery.
Best Places to Visit for Food: San José | La Fortuna | Playa Samara | Copey de Dota
Best Time to Visit: December | January | February | March | April
3. Sample Tradition and Taste Innovation
With all the makings of an unforgettable food experience, it's only natural that Costa Rica has fun, exciting, and informative cooking experiences throughout the country. While each region offers similar staples, you can find the different microclimates feeding into the various ingredients, in addition to the cultural influences that change between the Pacific coast to the Caribbean Sea. Whether sampling traditional rice and beans, learning the craft of making tortillas, enjoying the salty flavor of fresh cheese, or embracing the aromas of an authentic market visit, your cooking class will show you how tradition informs innovation in the kitchen.
Best Places to Visit for Cooking Classes: Tamarindo | Arenal | Manuel Antonio | San Jose
Best Time to Visit: December | January | February | March | April
4. Trek the Wild and Alluring Trails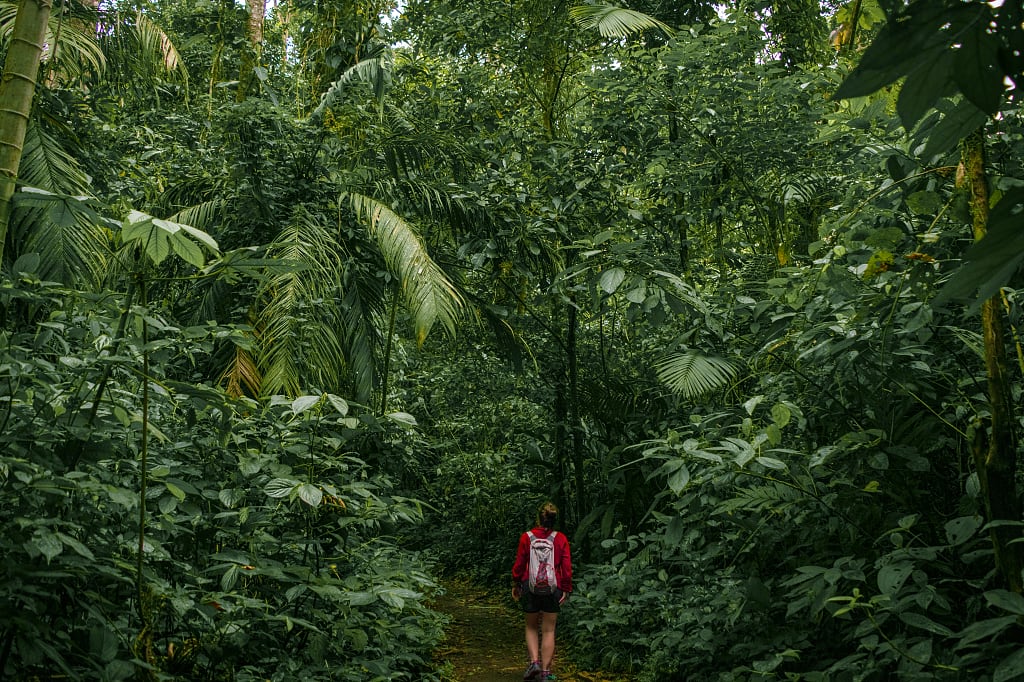 Hiking in Costa Rica is all about blending the biodiversity and vistas. The winding trails give you a sense of adventure crisscrossing volcanic passes or with dense rainforest opening into views of a secluded shoreline. While compact, Costa Rica practically bursts with wildlife hidden in the misty mountains or found in isolated estuaries in a country where approximately 30 percent of all lands are protected by national parks, refuges, and preserves.
Best Places to Visit for Hiking: Arenal Volcano | Tenorio Volcano National Park | Manuel Antonio National Park | Mount Chirripo | Nauyaca Waterfalls Nature Park
Best Time to Visit: December | January | February | March | April
5. Delight in the Breaks and Beaches
Costa Rica has been one of the world's top surfing destinations for decades and is famous for its quality waves, variety of breaks, and serene beaches. Whether a skilled surfer or eager to learn, you can find the right beach for you with friendly and warm locals eager to share in your experience along the nearly 800 miles of coastline. The surf is consistent on both the Pacific and Atlantic coasts giving you even more opportunities to discover the best breaks for you.
Best Places to Visit for Surfing: Dominical | Jaco | Tamarindo | Playa Cocles | Playa Naranjo | Playa Grande | Playa Negra
Best Time to Visit: December | January | February | March | April
6. Embrace the Wilderness and Wildlife
The complex network of Costa Rica's national parks overtakes both land and sea protecting primary rainforests and freshwater systems, marine resources and fascinating islands. You can retreat to cloud forests for a unique birding expedition or wander on trails through one of the most intent biologically diverse ecosystems in the world, cruise canal branches or simply experience the fact that nearly five percent of the entire world's biodiversity exists within Costa Rica's borders.
Best Places to Visit for National Parks: Manuel Antonio | Arenal Volcano | Corcovado | Tortuguero | Rincón de la Vieja | Piedras Blancas
Best Time to Visit: January | February | March | April | May | June
7. Wind and Wander the Carving Rivers
Costa Rica's waters aren't just great for surfing or searching for whales but also give you the ultimate thrill of a whitewater rafting excursion. The brilliance of whitewater rafting in Costa Rica is its ability to blend adventure and beauty for visitors of any skill level. The rivers have helped carve the soaring mountains and steep valleys that add to the intense microclimates found around the country putting every curve and rapid into a deeper geological context. Different rivers will give you varied experiences, with some offering intense whitewater and others giving you a serene view of the wildlife.
Best Places to Visit for Rafting: Savegre River | Naranjo River | Pacuare River | Pejibaye River | Balsa River | Sarapiqui River
Best Time to Visit: December | January | February | March | April
8. Take the Surprise of the Sky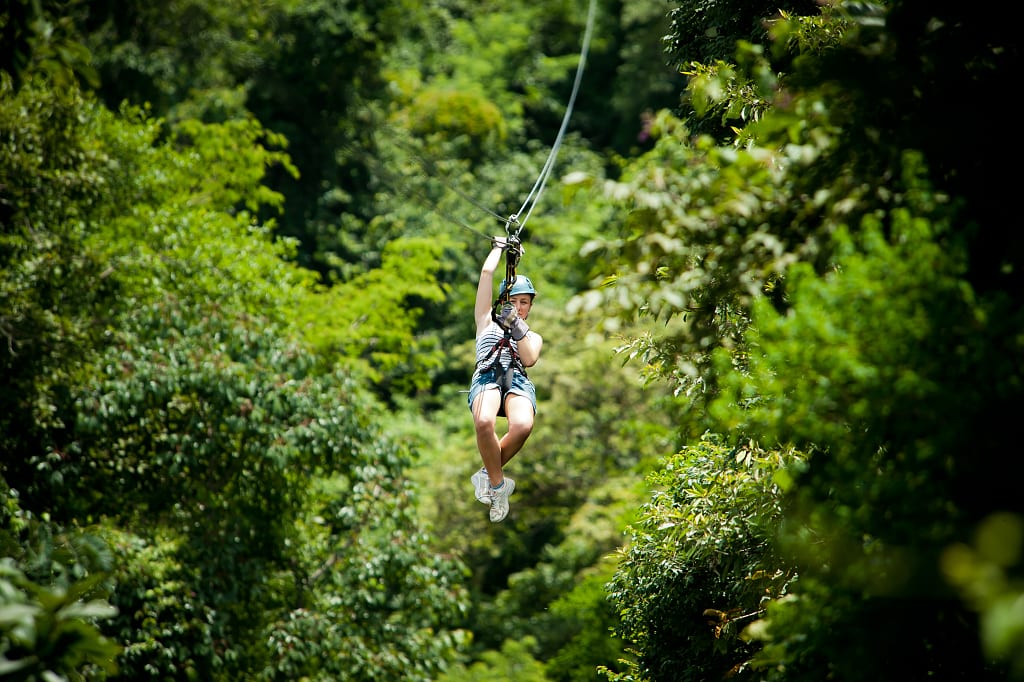 Costa Rica has no shortage of ways to explore the forest canopy, which gives you plenty of options in how you wish to discover fascinating panoramas. Activities like hanging bridges, ziplining, and aerial trams can reveal the 90 percent of the country's wildlife that live in the treetops. Whether you want an adrenaline-filled excursion or a relaxing glide between the trees, discovering Costa Rica through the air is essential for understanding the country's natural breathtaking layers.
Best Places to Visit for Aerial Tours: Arenal | Monteverde | Manuel Antonio | Jaco | Guanacaste
Best Time to Visit: December | January | February | March | April
More Travel Information & Tips
Costa Rica brims with captivating experiences that give you an idyllic escape into the Pura Vida lifestyle. Whether you want a family-friendly excursion in search of squirrel monkeys or romance on the beach, sea turtles or dramatic volcanic peaks, Costa Rica gives you enduring natural wonder in arm's reach with numerous transportation options. You can find more information for your perfect vacation with our Costa Rica Travel Guide. Thinking of planning a trip? You can speak to a Costa Rica travel expert for free by filling out a Trip Request Form or by calling our team at 1-888-265-9707.